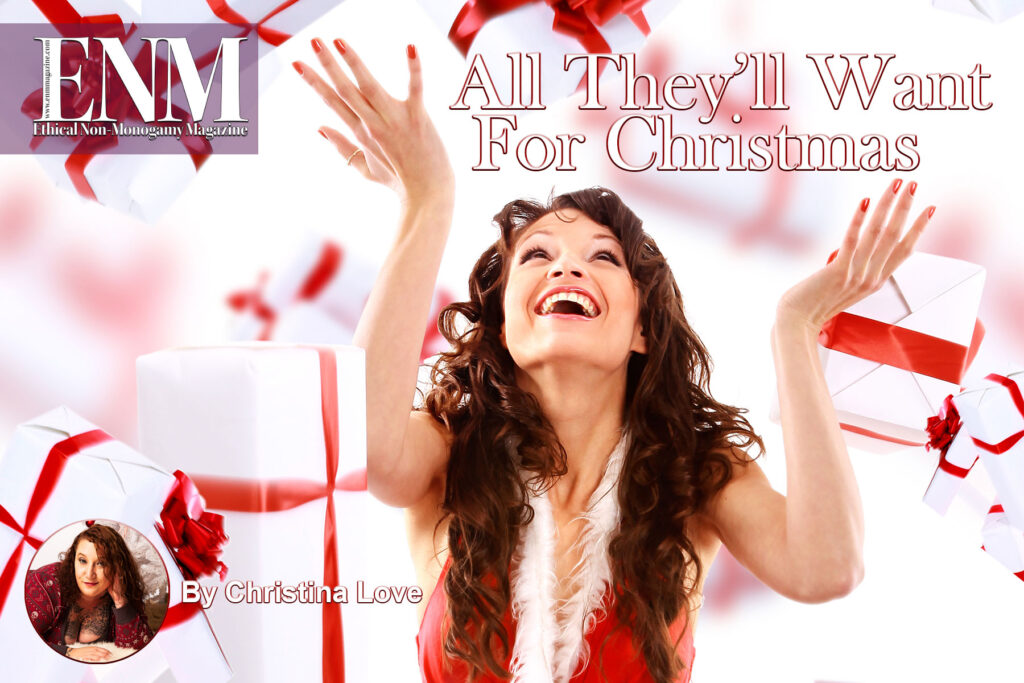 Christmas shopping can be difficult enough when you are monogamous; you can have family, friends, and co-workers to shop for, but when you are non-monogamous, you can also have casual and/or more serious partners, metamors, and even polywogs (the children of polyamorous parents, who are sometimes referred to as polywogs) and their pets…you buy presents for the pets of the people you love right?… Well maybe that is just me, but anyways that is a lot of presents.
I love to find unique gifts that are just the perfect thing for the person I am shopping for, but that they would most likely not buy for themselves. I also like to buy several smaller items that fit a theme, like a hot sauce making kit, a chili pepper apron, and a spicy recipe book to go with it, or like a few years ago for my best friend — we will call her Fluffalump — I bought her a cute pair of pineapple earrings, a giant pineapple beach towel, pineapple lip balm, and a pineapple shaped succulent pot… What can I say, when I find a theme I stick to it! I do most of my shopping on Amazon and Etsy. You might be surprised how many individuals or small independent businesses that you can buy from on Amazon. I believe that supporting individuals and small businesses is always important, but it is especially vital during these difficult Covid times.
Michael, my nesting partner, can be difficult to shop for. Like me, he usually buys himself the things that he wants or needs just about as soon as he realizes that he needs or wants them. He does love cooking and barbequing, so kitchen gadgets are always a good direction to look in for a gift for him, especially for a gift that he wouldn't necessarily buy for himself.
On the other hand, Ellie, my metamor, who is also a nesting partner, is really easy to shop for. She has quite a few unique kinds of items that she likes… mermaids, anything to do with the beach, and of course… wine! We also have a lot in common, so if I find something that I might like, there is a good chance that she might like it as well.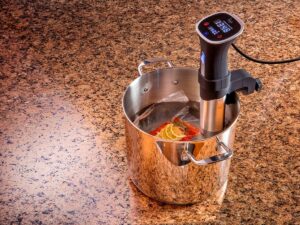 Kitchen gadgets are super fun to shop for and one of my favorites that I have gifted to my partner, Michael a few years ago was a sous vide… If you have never heard of a sous vide I will give you a short run down, but I could literally write an entire article about the amazing sous vide. Sous vide means "under vacuum" in French, because you are vacuum sealing your food before you cook it in the sous vide. It allows you to cook your food to a precise temperature all the way through; if you want a medium rare steak, it will be medium rare from the edges to the middle. There are a wide variety of price ranges when it comes to sous vides; the more expensive ones tout bluetooth and wifi options, which in my opinion is really not necessary. The one that I gifted was the Monoprice Sous Vide Immersion Cooker 800W; $79.99 and Michael loves it, and uses it several times a week!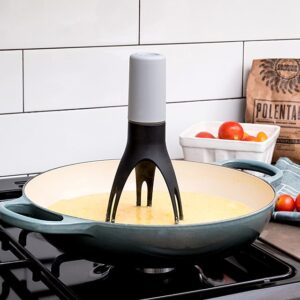 Do you have a person in your life that does it all and then some? The person that is always busy and could use an extra hand? Here is the perfect gift to give them an extra hand… in the kitchen at least. The Automatic Pan Stirrer with Timer; $25 from Uncommon Goods is a "set it and forget it" sort of kitchen gizmo. All you have to do is set it in your pan, in up to 3.5 inches of simmering or low heat liquid, up to 200 degree F., set the timer, and bustle off to do all of the other things that need to be done. While you are away the Automatic Pan Stirrer will do just that, stir the pan automatically for the amount of time you set it for. When the timer is done the stirrer stops and waits for you to come back for your next step. It is said to be easy to clean and with four AA batteries running it you don't have to worry about recharging it for next time.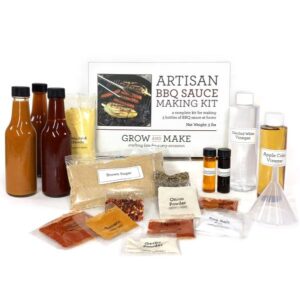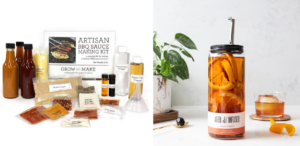 Another fun gift for someone that likes to experiment and make their own stuff from scratch would be one of the awesome kits from Grow and Make and Aged & Infused. The first one that caught my eye was the Artisan DIY BBQ Sauce Making Kit; $39.95. The DIY BBQ Sauce kit includes almost everything you need to make three bottles of bbq sauce customized to taste exactly how you want; the only things that aren't included is the tomato paste and oil of your choice. The instructions allow you to easily make a hot sauce for each of the three bases: tomato, mustard, and vinegar. Aged and Infused is a labor of love of a husband and wife team, who call themselves "self-taught mixologists". Their alcohol infusion kits are filled with a variety of spices and ingredients and all you have to add is a mid-range bottle of your favorite alcohol. Their Navel Gazer Alcohol Infusion Kit; $25, sounds like it would be amazing with a bottle of Kraken Black Spiced Rum. I think the combination of dehydrated oranges, cinnamon, and cloves in the kit and the dark and spiciness of the Kraken rum would be a gift that just about anyone would love. If those kits aren't up your alley, check out the other kits from Grow and Make and Aged & Infused. There are so many options on both websites that I am sure you would be able to find something to tickle anyone's fancy.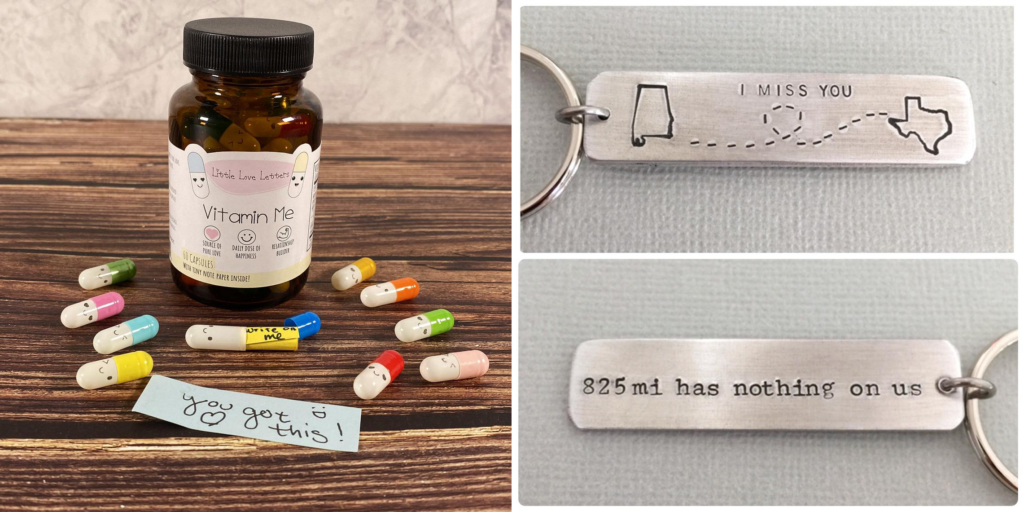 Special situations sometimes require special gifts… Like for the long distance loves in your life. You probably don't get to see each other as often as you would like, so Christmas can be a good time to emphasize their meaning in your life, with a well thought out gift that will keep them thinking about you all year long. The Little Love Letters Vitamin Me; $22.79 from the Teeny Tiny Love Letters shop on Etsy is a gift that they can enjoy any time they need a pick me up from you. The Vitamin Me comes in a glass bottle with a cute label with "nutrition information" and warnings; 60 multi-colored capsules with charming winking, smiling, and heart faces; and colored slips of paper ready for you to write sweet, lovey, encouraging, etc. notes. Another sweet gift that would remind them of you everyday is the sweet but sturdy Double Sided State to State Keychain; $21.36 from the Anes and Eve shop on Etsy. It is customizable with the outline of your state and your partner's state with a line connecting them. The backside is customizable with up to 23 letters; you can put your names, a quote that is meaningful to you, or like their example "825mi has nothing on us" with the actual number of miles between you.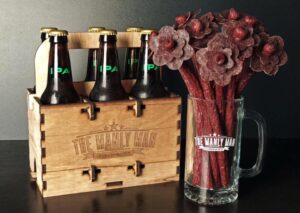 During these times when we are social distancing and looking out for ourselves and our family, being able to ship a gift straight from the vendor to your recipient is even more advantageous than it was before. A lovely Beef Jerky Bouquet or "Broquet" from Awesome Gifts or Manly Man Company makes a great gift for that meat lover in your life. There are a lot of different options, but my personal favorite is of course the Beef Jerky Flower Broquet & Beer Mug; $82. Not only will your loved one get a dozen mixed, original, teriyaki, or hot jerky and pepperoni stick roses, but it also comes with one of the most heavy duty glass beer steins that I have ever had the pleasure of drinking from. I have previously bought this as a Father's Day gift for my nesting partner so I was able to experience it firsthand; no matter the holiday they have a gift for just about anyone in your life. 1818 Farms in the small… very small (population of 59) town of Mooresville, Alabama is a family owned and operated farm that helps to teach children to appreciate the land and animals that provide for the crops, livestock, products, etc. They have put together kits for the sorely under-appreciated health care worker in your life. Their Healthcare Hero Collection includes a gift box for Him; $48 and Her; $48 and they include quality products meant to pamper and relax with, especially after a long day.
These are just a few gifts to inspire and to get your creative gift-buying juices flowing. If none of the above is "just right" for your partner, metamor, friend with benefit, and everyone in between, remember that the perfect gift is really the gift that makes them think of you when they see or use it. I wish you the best of luck with your Christmas shopping. During these especially stressful and trying times remember that love is really the best gift of all.