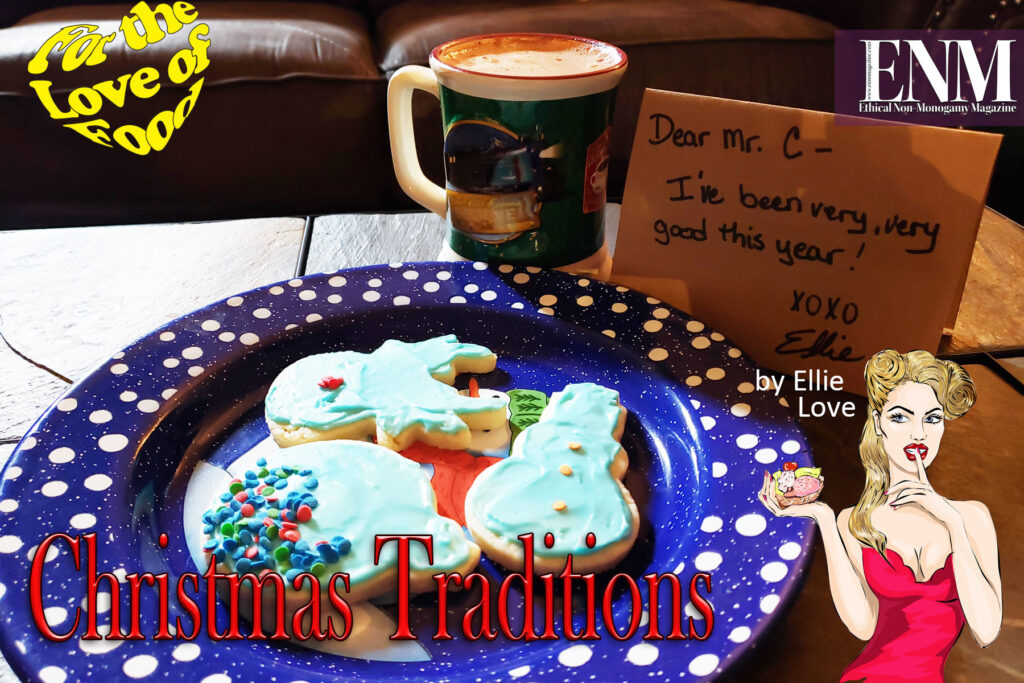 Christmas… In this time of uncertainty, we need our traditions. Now is the time to bring out old family traditions or create some new ones.
One of our oldest family christmas traditions is matching pajamas and making cookies for santa. We would set up our christmas tree and decorate the house the day after Thanksgiving. I would spend the rest of the month sewing matching pajamas for everyone. They were the one gift that everyone opened on Christmas Eve. The kids were always excited to see those boxes under the tree, they were a sure sign that Christmas was near. Christmas Eve was a day of flurried activity. We would spend the day making cookies and getting them baked and cooled so they would be ready for frosting. The kids loved helping to decorate the cookies! It was always a huge, sticky mess and 100% worth it to see their smiling faces. All the laughter that went into the cookies made them taste even better. After all the cookie decorating was done, we would set out Santa's cookies. Then it was time for the long awaited pajama opening. Everyone would gather round the tree, then tear into their boxes to see this year's theme. Now it was time for the last tradition of the night. We would all put on our new pajamas, cram on the couch with cookies, hot cocoa, and popcorn to watch Polar Express.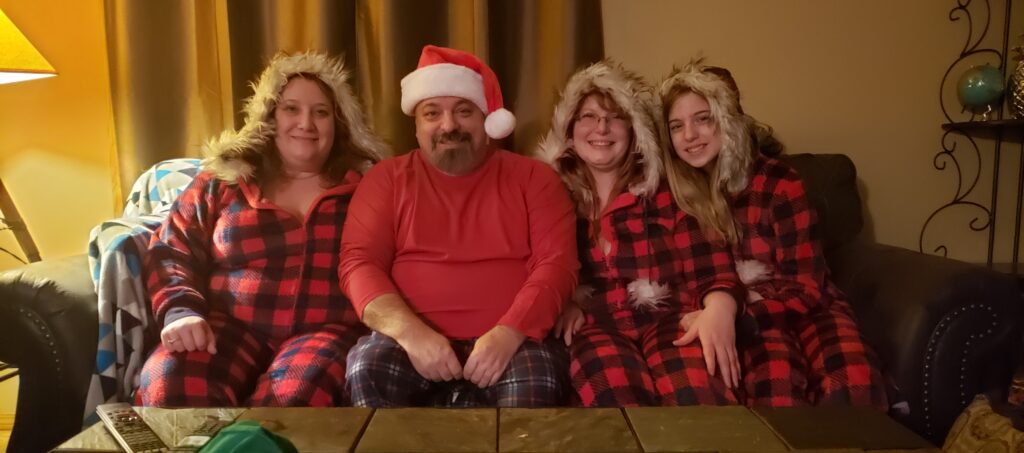 When Christina came into our lives, I made her suffer through our traditions as they were. It takes me a minute to deal with change. However, the following year we changed the movie from Polar Express to Die Hard, which is her favorite Christmas movie… (It IS a Christmas Movie!) But we all love our matching pajamas. I didn't make them, with my crazy work schedule this time of year it is no longer practical for that to be a thing. But just as much love went into finding just the right ones for us. The excitement was still there when I handed out the boxes and watched everyone open them. And then we crammed on the couch with cookies, hot cocoa, and popcorn to watch our new Christmas movie.
This year we put our tree up the Sunday after Thanksgiving, as it is the day we all have off together. This is the first year we have put up the tree since we have lived together. We are usually so busy with holiday things for others that we just haven't had the time or energy to do it. Also, Christina's cats… Now our cats too… have never seen a Christmas tree and we were worried how much destruction they might cause… But this year there are not all of the parties that we have had to work in the past and the cats have mellowed some in their middle age So, we all decided that we really needed all of our traditions this year! I am finding the perfect matching pajamas for us all and have cookies ready for a family decorating session. It shall be sticky, messy, and fun! Full of laughter and smiles. They will be the most beautiful cookies because they will be created with love and family. Old traditions and new traditions meld into our traditions.
And then we will all cram on the couch in our spiffy new jammies with cookies, hot cocoa, and popcorn and get through as many Die Hard movies as we can!! 
Sugar Cookies
Ingredients
1 cup unsalted butter
1 cup sugar
1 ½ tsp vanilla
1 egg
2 tsp baking powder
½ tsp salt
3 cups flour
Instructions
Preheat the oven to 350 degrees.
In a large mixing bowl or stand mixer, cream the butter and sugar until smooth, at least 3 minutes.
Beat in the vanilla and egg.
In a separate bowl, combine the baking powder and salt with the flour. Add a little at a time to the wet ingredients. The dough will be stiff. If it becomes too stiff for your mixer, turn out the dough onto a counter surface, flour as needed. Wet your hands and finish off kneading the dough by hand.
DO NOT CHILL THE DOUGH! Divide into workable batches (2-3 chunks), roll out onto floured surface, and cut. You want these cookies to be on the thicker side (closer to ¼ inch rather than ⅛ inch).
Bake at 350 for 6-8 minutes. Let cool on the cookie sheet until firm enough to transfer to a cooling rack.
Sugar Cookie Frosting
Ingredients
2 cups powdered sugar
1 Tbsp butter, melted
1 tsp vanilla
3-4 Tbsp milk
Instructions
Add the powdered sugar, melted butter, and vanilla to a large bowl.
Mix on high speed for 1-2 minutes.
Add 2 Tbsp of milk and continue to mix on high. Check the consistency to make sure it is not too runny or stiff.
Add 1-2 Tbsp additional milk to achieve desired consistency and mix 1-2 minutes more.
Add food coloring, if desired and mix to combine.
Transfer to a pastry bag and pipe onto the cookies, or spread frosting with a knife, as desired.
Recipe Notes
3 tablespoons of milk is best for the standard, slightly thicker frosting consistency. This goes on smooth, but thick and holds its shape if you are piping it.
For a thinner, glossier frosting that doesn't hold its shape but spreads flat and smooth, add an additional tablespoon of milk, (for a total of 4). This gives a slightly thicker than "flooding" consistency, but achieves the same smooth results.
For true flooding consistency use 4.5 to 5 Tbsp of milk total and add to an applicator bottle to flood your cookies.